Chu Sau Lei Wing Chun  Certifcation under Alan Orr Sifu
Martial Arts
CSL Wing Chun System Certification
Student Certification example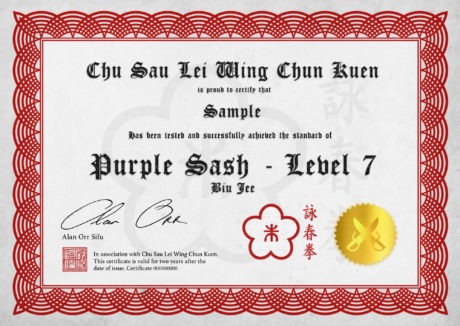 Siu Nim Tao                
Level 1                          White Sash *
Level 2                          Grey Sash *
Level 3                          Yellow Sash * 
Chum Kiu           
Level 4                          Orange Sash
Level 5                          Green Sash
Level 6                          Blue Sash
Biu Jee                              
Level 7                          Purple Sash
Level 8                          Light Brown
Level 9                          Dark Brown
Muk Yan Jong
Level 10                        Gold Sash                                  Assistant Instructor
Luk Dim Boom Gwun
Level 11                        Black Sash                                     Instructor
Ba Jamm Dao
Level 12                        1st Degree Black Sash          Full Instructor
Instructor Certification example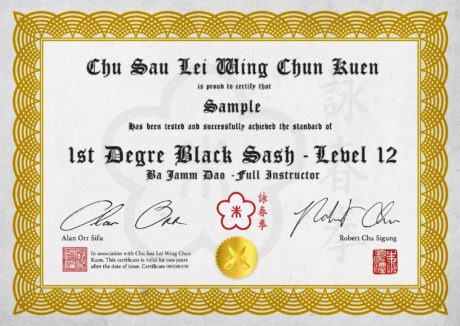 Ongoing Certifications   Time / Development / Commitment to our system
2nd Degree Black Sash   Full Instructor
Senior Instructor          3rd Degree Black Sash – 5th Degree
Master Instructor          Red Sash 6th Degree -10th Degree
CSL Sanda Chinese Boxing System Certification 
Level 1                          White Sash *
Level 2                          Grey Sash *
Level 3                          Yellow Sash *
Level 4                          Orange Sash *
Level 5                          Green Sash *
CSL Sanda Chinese Boxing System Certification Striking Coach
Level 6                       Blue Sash
Level 7                          Purple Sash
Level 8                          Light Brown
Level 9                          Dark Brown
Level 10                         Gold Sash       
CSL Sanda Chinese Boxing System Certification Striking Instructor
Level 11                        Black Sash      
CSL Sanda Chinese Boxing System Certification Striking Full Instructor
Level 12                                                                                                       
CSL Sanda Chinese Boxing System Certification 1st Degree Black Sash
Ongoing Certifications   Time / Development / Commitment to our system
2nd Degree Black Sash   Full Instructor
Senior Instructor          3rd Degree Black Sash – 5th Degree
Master Instructor          Red Sash 6th Degree -10th Degree
CSL Gu Lao Wing Chun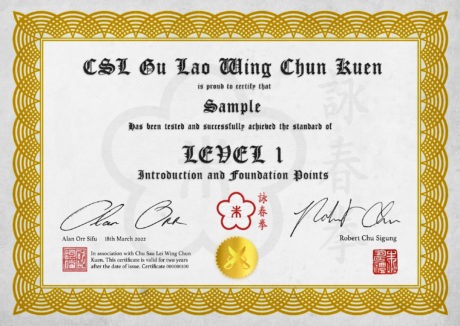 LEVEL 1 Introduction and Foundation Points *
LEVEL 2 Major Points *
LEVEL 3 Jong *
LEVEL 4 Pole *
LEVEL 5 Blades *
LEVEL 6 Instructor Black Sash
BJJ
Blue Belt
Purple Belt
Brown Belt
Black Belt
Submission Grappling
Blue Belt
Purple Belt
Brown Belt
Black Belt
Chinese Medicine 
Qi Gong Instructor *
30 Contact Hours 60 Non-Contact
Tui Na Chinese Massage Certificate *
40 Contact Hours 100 Non-Contact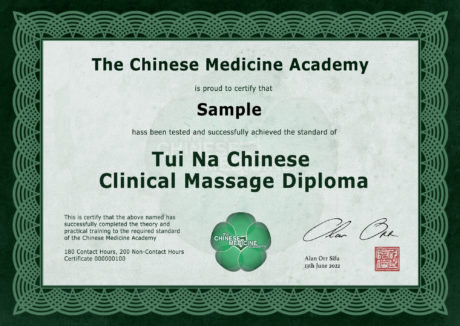 Tui Na Chinese Clinical Massage Diploma
180 Contact Hours 200 Non-Contact
TCM Cupping Therapy Certificate
8 Contact Hours 20 Non-Contact
Tui Na Chinese Clinical Massage and Manipulation (Bone Setting) Diploma
60 Contact Hours 100 Non-Contact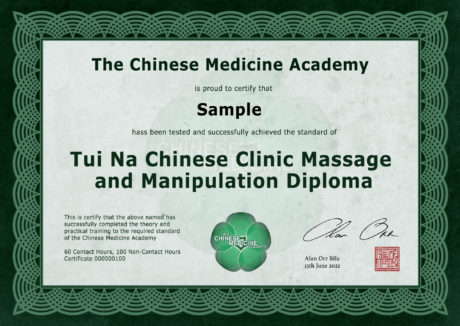 Anatomy and Physiology Diploma
40 Contact Hours 100 Non-Contact
Coaching and Training
Kettlebell Coach *                                                         14 Contact Hours 40 Non-Contact
Gym Instructor *                                                          40 Contact Hours 60 Non-Contact
Combat Sports Conditioning Coach  *                    10 Contact Hours 30 Non-Contact
Functional Personal Trainer *                                    40 Contact Hours 100 Non-Contact
Contact hours can be from completing online courses.
* Online grading for these courses is available but that may require extra private online lessons.
For students that have completed connected courses, there will be grading requirements on request. Once these have been completed then a grading can be arranged.
Grading fee is $150 USD, which covers assessment from Alan Orr Sifu and Robert Chu Si Gung, one online video discussion as needed, plus certification.
Gradings incur a cost as they take time and often require feedback and corrections. Plus time to produce certification.
For private students, some Certifications will have no charge as the level is under continued assessment. Also some private students that have been training directly or with online lessons, may not be charged for gradings.
For CSL Instructors grades and all Gu Lao Wing Chun gradings, certifications with also be assessed and signed by Robert Chu as well as Alan Orr
Training Centers
These are Schools where you can train with qualified Chu Sau Lei Wing Chun Kuen Instructors under Alan Orr. View a list of our branch training centers.
New Zealand HQ in Tauranga
Affiliates
These are groups that have not had live training with Alan Orr but have joined the program to learn the system. They are committed to learning Chu Sau Lei Wing Chun Kuen.
Some people have limited access to live training, so this is a good way to build like minded training partners. Once they have had completed live training and testing they can apply to become a Training Center.
Start a group and join our quest by joining our Inner Members Group  or Mentor Program
https://www.alanorrwingchunacademy.com/mentor-program/
Inner Members Section Online access 
Included in Mentor Program