Peter Irving (Professional MMA Fighter)
I've trained with Alan since 2006, his guidance in all aspects of MMA technique, physical preparation, injury management and prevention, and strategy and game planning have been an integral part of my success in Mixed Martial Arts. I've been all over the World in search of training and technical information, and Alan's style and knowledge is truly unique.
Aaron Baum
Having boxed for 10 years and experienced Aikido for a few years, about a year and a half ago I was looking for a Wing Chun class to go to, to see what this "Wing Chun" mystery was all about. Little did I know that the first class I walked into would lead me into a true friendship with such a compassionate, honest, open and awesome martial artist such as Alan Orr. Having seen many incredible fighters in my time, I can without doubt say that Sifu and the system and its principles he imparts on me are truly inspiring. Not only is he leading me on the path to being an extremely effective fighter, but equally has helped and continues to help lead me on a path to being a more mindful and positive person in every walk of my life. I feel like I have known him for as long as I can remember and I know I will know him for as long as I can imagine.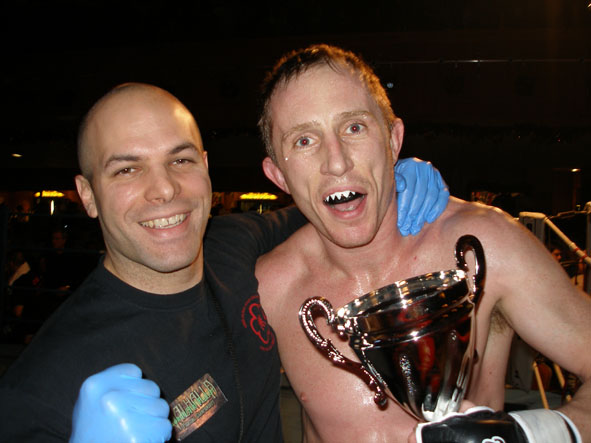 I wish to say that I intensely proud to have a teacher/friend of your calibre. I have done martial arts for nigh on 20 years & I feel like a beginner all over again & that happens on most weeks. I never feel that I'm bored or running out of material to learn. Quite the opposite in fact. Just the focus on concepts as opposed to techniques has turned the way I learn around, & that is the real key. You become self-learning and the Guru mentality disappears; and much as we realise how much knowledge you have it is never lorded over us and we never have to beg for info and lose our own respect. To me that is very empowering and the mark of a true teacher. There is always more, a refinement of this a tuning of that. Also I feel the leaving of the ego at the door is very important.
Mark
I was in a club before where at the end of each session you beat the hell out of each other and invariably someone came away either injured physically or mentally weakened because they weren't up to scratch. The club is mostly guys and to have a group of tough martial artists and still be able to express themselves as caring individuals speaks masses. Hopefully the martial world will begin to take on such approaches to people after all that is what it should truly be about, developing people and raising their esteem so that they can meet the world from a better space because their own internal world has become less diminished and has filled with the desire to be a better person. So a big thank you once again Al.
Paul
Our school is a great place to learn martial arts, especially Wing Chun. Our system is based on a deep understanding of Wing Chun with an emphasis on application rather than techniques. Alan Orr Sifu is opened in his teaching and continues to search and expand his knowledge of martial art.
Sunee
I am very fortunate to be accepted as your student, training under you taught me to become a better person, the strength, determination and belief in my own potential produced by hard, no-nonsense training, you are the best teacher with the best vision and commitment to your students. The system is excellent, but you made it better, the skill that you've passed on to your students make me want to learn more and more from you, thank you for being the best teacher and thank you for the love of your kung fu.
Shaun Scales
Since training with Alan Orr Sifu it has renewed my enthusiasm for the Wing Chun system. Having trained f or a number of years in Wing Chun previously I thought my Wing Chun was fairly good. This was until I met Alan Orr. Although he did not "rubbish" my skills he was able to show me how the Chu Sau lei system was far superior in terms of using body structure to control your opponent. This first session blew my mind. From this Alan Orr Sifu agreed to allow me onto his apprentice instructors programme. His demands from students is high as he wishes that his instructors have high standards. It has not been easy to change and re adjust as "old habits are hard to break", however with Alan Orr's way of teaching and explanations why there is a need to do this, I am quickly beginning to understand the concepts of this particular branch of the Wing Chun system, apply them and see the results.
Loukas
I have extensive experience in Wing Chun. I have never before encountered a system which is so refined and efficient as the Chu Sau Lei System. Its manner and structure is so integrated and unrestrictive to the biomechanics of the practitioner. This system of Wing Chun is by far the most natural and effective. It works in a frighteningly blunt assassin like manner! Genius and simplicity are revealed through Body Structure. The arts functioning and interrelationship with the body's healing systems, discloses a clear holistic and comprehensive nature. During my instruction I learnt a great deal in a very short space of time. The depth of knowledge to be offered gave me a unique and never before seen insight into the depths of authentic Wing Chun. Chu Sau Lei Wing Chun Kuen is without doubt a unique Martial Treasure!
Chris
In training in the school be prepared to have your opinions and ideas on Wing Chun tested and challenged. The expression of the system and the school is to present Wing Chun as it should be as a practical no-nonsense expression of the art, which encourages application of the tools in a manner which is practical to each individual. Alan Orr Sifu encourages the development of each individual to the best of their abilities emphasizing and teaching the principles of the system.
Charles Borg Malta
I traveled to the UK to train with Alan Orr. I found Alan to be very knowledgeable and well taught on what he teaches. His Wing Chun is incredibly effective and he can adapt it to many martial arts, in the sense that what he teaches can be used to compliment one's skills in other martial arts and not just for Wing Chun. Alan is also very skilled in grappling and no-holds-barred and a few sessions training with him can teach you much. But what is amazing is how he can adapt his Wing Chun skills and integrate them into no-hods-barred and grappling and so making these two effective systems already more powerful. Its more than just techniques but a system that uses techniques. Alan teaches how to use your body and not a bunch of techniques.
This, I think, is the proper way to learn a martial art and it is when you know what you are doing is when you really can "make things work". I think that the ability of an instructor shows in his students and certainly his students are GOOD. Also they are nice people and make you feel at home as well as help you a lot. Alan does really careabout keeping his students close to each other and this also shows the quality of an instructor.
Rory MacLaren-Jackson
One of the key virtues of our school is the openness that permeates all levels of our training. The system is taught in such a way to encourage the student to ask questions and fully understand their development. Not only does Alan Orr Sifu always provide a clear answer to such queries but he ensures that your understanding is completed by your own research and ideas. It follows that discussion flourishes in classes/seminars with students of all levels helping each other to attain skill and understanding. This provides a great atmosphere in which to learn Wing Chun – one that is unique in my experience of the Martial Arts!
David McKinnon – Jung Sien Mo Shut Gwoon, USA
It was a real pleasure to train with you and your students in London and York this last summer. I am happy to have you as a brother in the Chu Sau Lei Wing Chun Kuen family. I enjoyed the free exchange of ideas we shared and I am glad to see that you and your students hold yourselves to such high standards in your training. Please thank your students Simon and Gareth for their hospitality and friendship. I look forward to your visit in November 2004 and many more exchanges after that.